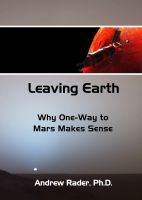 Leaving Earth: Why One-Way to Mars Makes Sense
(4.00 from 2 reviews)
The timeline for a Mission to Mars is still over 20 years off, but it doesn't have to be. This book demonstrates why we should go to Mars, and why when we do going one-way - not to die, but to live - actually makes a lot of sense. Accessible to a non-technical audience, 'Leaving Earth' is fast-paced, and full of fascinating scientific, historical, and personal stories. On to Mars!
Aeneas And The Sibyl
This is the easy to read version of the author's translation of the sixth book of the Aeneid, which describes the Trojan hero Aeneas' voyage to and through the Underworld. Being an adaptation, it is not a literal translation of the Roman poet Vergilius' Latin text. However, in the opinion of the author it does represent the meaning of his text.