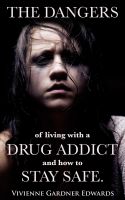 The Dangers of Living with a Drug Addict and how to Stay Safe.
by

Vivienne Gardner Edwards
Living with a drug addict can be dangerous. Drug use affects not just the user but everyone else around them. Children are especially vulnerable. This book spells out some of the dangers that most non-users are unaware of, and also makes suggestions as to what things to watch out for. Being armed with this knowledge can make living with a drug addict safer and could possibly save lives.
Related Categories