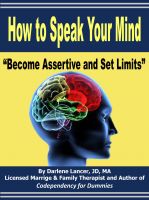 How to Speak Your Mind – Become Assertive and Set Limits
by

Darlene Lancer JD LMFT
(3.50 from 2 reviews)
"How to Speak Your Mind" explains what it means to be assertive, why it's important, and how to achieve it. It details all of the elements of assertive and nonverbal communication and lays out the steps to become assertive, as well as common mistakes to avoid. "How to Speak Your Mind" walks you through the difficult task of learning to set limits and boundaries, providing tips and techniques.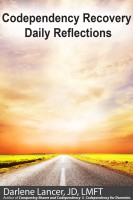 Codependency Recovery Daily Reflections
by

Darlene Lancer JD LMFT
"Codependency Recovery" is a daily reader for anyone healing from addiction, codependency, abuse, or low self-esteem. It combines inspirational quotes, probing insights into codependency, and self-help exercises hand-crafted by expert Darlene Lancer that further your growth. Read the 365 of the best posts from Facebook's CodependencyRecovery page, followed and shared by thousands of Facebook fans.
Related Categories