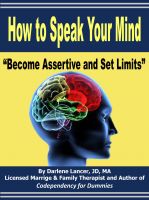 How to Speak Your Mind – Become Assertive and Set Limits
by

Darlene Lancer JD LMFT
(3.50 from 2 reviews)
"How to Speak Your Mind" explains what it means to be assertive, why it's important, and how to achieve it. It details all of the elements of assertive and nonverbal communication and lays out the steps to become assertive, as well as common mistakes to avoid. "How to Speak Your Mind" walks you through the difficult task of learning to set limits and boundaries, providing tips and techniques.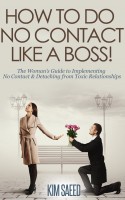 How to Do No Contact Like a Boss!
by

Kim Saeed
How to Do No Contact like a Boss explains the reasons for going No Contact and takes the reader from the initial planning stages, exit strategies, the moment of No Contact, what to expect in the days that follow, and how to deal with a persistent and/or abusive ex who refuses to respect one's request for No Contact.
Related Categories