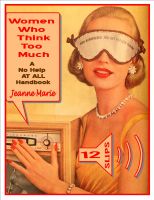 Women Who Think Too Much
by

Jeanne Marie
(5.00 from 10 reviews)
In a unique approach to codependency, the author shares her practical tips for successfully becoming codependent. Dark humor fuels this fearsome narrative. After she draws you in, she smacks you with the reality meter, turning your preconceived notions of her 12-Slip program upside down.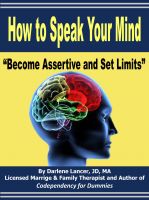 How to Speak Your Mind – Become Assertive and Set Limits
by

Darlene Lancer JD LMFT
(3.50 from 2 reviews)
"How to Speak Your Mind" explains what it means to be assertive, why it's important, and how to achieve it. It details all of the elements of assertive and nonverbal communication and lays out the steps to become assertive, as well as common mistakes to avoid. "How to Speak Your Mind" walks you through the difficult task of learning to set limits and boundaries, providing tips and techniques.
Related Categories