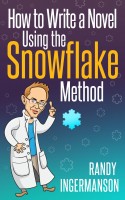 How to Write a Novel Using the Snowflake Method
by

Randy Ingermanson
(5.00 from 2 reviews)
Are you writing a novel, but having trouble getting your first draft written? Take a look at the wildly popular Snowflake Method—a battle-tested series of ten steps that jump-start your creativity and help you quickly map out your story. All around the world, novelists are using the Snowflake Method right now to ignite their imaginations and get their first drafts down on paper.
The End of Nice: How to be Human in a World run by Robots
by

Richard Newton
If robots and algorithms take over our places of work, what will be left for humans to do? In this refreshing and original account, Richard Newton finds the upside to an age of robots – and describes the creative revolution an automated society will bring in its wake. A thought-provoking manifesto on how humans can flourish in the age of robots, from a Sunday Times #1 bestselling author.