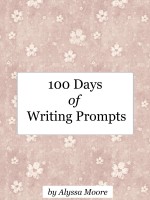 100 Days of Writing Prompts
by

Alyssa Moore
100 unique writing prompts all in one place. They could be snippets of description or opening lines or anything in between. They are whatever strikes your fancy and whatever you see fit. After this point they are all yours. Love them, use them, twist them, make them your own, and make them worth your while.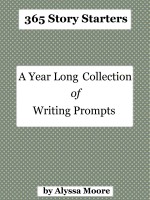 365 Story Starters: A Year Long Collection of Writing Prompts
by

Alyssa Moore
365 Story Starters has one solid year of writing prompts that range from description, dialogue, opening lines, closing lines, and more. Broken up by month, you'll have everything you need at your fingertips to spark inspiration for your next story. Also included are 100 writing exercises to make writing a habit. Start your story today.