Advanced Hypnosis and Hypnotherapy: How to Get Great Results with Your Hypnosis Clients Every Time
by

Tom Eng
(5.00 from 1 review)
This Compact How To Guide is a follow up to my previous book, 'The Power of Hypnosis'. 'Advanced Hypnosis and Hypnotherapy' quickly picks up where 'The Power' left off. It provides additional details on the seven-step hypnosis process. More importantly, for each step, the book addresses challenging client situations, reasons why they occur, and how to handle these tricky situations like a pro.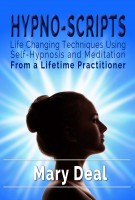 Hypno-Scripts: Life-Changing Techniques Using Self-Hypnosis and Meditation
by

Mary Deal
A window of consciousness separates two states of the mind: Self-hypnosis and meditation, with similarities and accessibilities defined here. If curious enough to peruse this book, the ability to learn these techniques are already part of your consciousness and soon to be recognized. Your subconscious is prompting you to investigate. It is saying that you are capable of deeper states of mind.
Related Categories