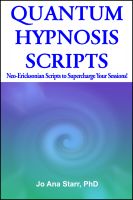 QUANTUM HYPNOSIS SCRIPTS- Neo-Ericksonian Scripts that Will Supercharge Your Sessions!
(5.00 from 1 review)
This is a book that features 24 full length, professional Hypnosis scripts that are ideal for Self Hypnosis use or professional use. In addition to the 24 full length Hypnosis scripts, there are 2 Master Hypnosis Inductions included as well as instructions for use. The print version is 222 pages long. Readers of Quantum Self Hypnosis receive a Free audio Hypnosis full length session.