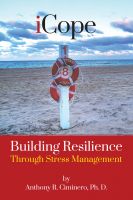 iCope: Building Resilience Through Stress Management
by

Anthony R. Ciminero, Ph. D.
iCope presents an efficient yet comprehensive approach to learn positive coping skills to manage stress and build resilience to negative psychological or medical effects caused by stress. The methods are all based on scientific principles established over the past several decades. iCope describes this easy approach to improve your overall resilience to any health risks caused by stress.