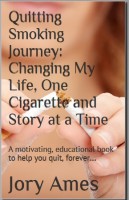 Quitting Smoking Journey: Changing My Life, One Cigarette and Story at a Time
by

Jory Ames
Jory Ames' book is for smokers to go to for motivation, education, and a personal and successful quit journey. Her mission: to use the same research skills that earned her a Ph.D. and a successful 30-year career as a technical writer to understand and take control of nicotine addiction. She wanted to know why it is so hard to quit, and yet also so easy to quit once the mindset is in place.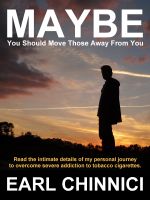 Maybe You Should Move Those Away From You
by

Earl Chinnici
(5.00 from 2 reviews)
At forty years of age, I was impoverished and severely addicted to tobacco cigarettes. I could not even afford a decent birthday gift for my dear friend Cathy I had met online years earlier. In this book, I tell the story of how my friend turned my makeshift present for her into a gift of life for me. I tell how I overcame my addiction gradually, share tips, personal photos, and more!