30 Days to a More Powerful Memory
by

Gini Graham Scott
The book will help anyone improve his or her memory. Besides drawing on the latest findings from brain researchers about what works and why, it includes a variety of hands-on techniques and exercises, such as memory-building games and mental-imaging techniques you can use day to day to improve your memory. You can use these skills for work, professional development, and in your personal life.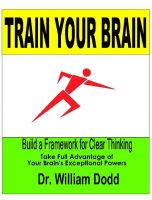 Train Your Brain - Build a Framework for Clear Thinking
by

William Dodd
(5.00 from 1 review)
TRAIN YOUR BRAIN will help you build a mental framework for clear thinking. The basic anataomy of the brain is presented. Strategies are summarized for learning, for managing memories, and for problem solving. A model of consciousness is developed. With daily practice you can learn more in less time and improve your ability to think clearly.
Related Categories