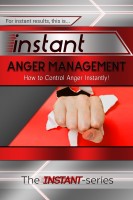 Instant Anger Management - How to Control Anger Instantly!
by

The INSTANT-Series
Do you easily get offended or upset when somebody says or does something to you that you don't like? Are you always walking around like a ticking time bomb, full of rage ready to explode? Anger causes you to act out in ways only to regret later once it's passed, but the damage is already been done. Don't ruin your relationships and life for a brief heat of the moment. Manage your anger now!
What to Do While You Count to 10
by

David Earle
When anger is used correctly, it usually has positive results! As difficult as this concept seems to most people, it is true. Find out how with the step-by-step, practical and proven technique for regaining control of run-away emotions written in a story format complete with drama, humor, and a surprise ending.