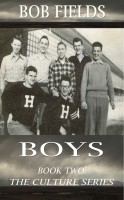 Boys
by

Bob Fields
Boys author Bob Fields depicts an accurate and vivid description of young adolescent males in the 1940's & early 1950's in rural Maine. Fields' perceptive analysis of boy's personality traits and how they influence their attitude toward life (and girls) is on target. The onset of testosterone further complicates boy's views about girls and sets up conflict and confusion about sex.
So! You want to be British
by

John Barber
This book is a collection of more than fifty blogs posted by the author over a two year period. Cultural events, national treasures, famous and ordinary people who made the news illustrate what it means to live in Great Britain and to call oneself British. Most articles are quite short with more than a touch of irreverent humour and read together explain what being British really means.