Ottissippi The Truth about Great Lakes Indian History and The Gateway to the West
by

Cheryl L. Morgan
The sweeping history of the Great Lakes Indians. Lower Michigan was the highly contested gateway to the West and wealth. The complex, scattered, buried, inaccessible, now accessible, in the extraordinary research, in one volume. An important contribution to education and research. Know the truth and history, of the Three Fires, Ojibwe - Chippewa, Ottawa, Pottawatomi, Huron and many more tribes.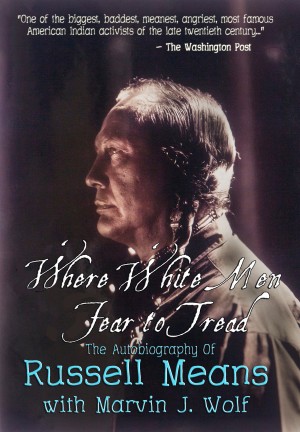 Where White Men Fear to Tread: The Autobiography of Russell Means
by

Russell Means

&

Marvin J. Wolf
An autobiography of epic scope--the riveting, controversial story of Russell Means, the most revolutionary Indian leader of the Twentieth Century. Where White Men Fear to Tread (written with Marvin J. Wolf) tells the absorbing story of the accountant-turned-Indian activist who burst onto the national scene when he led a seventy-one-day armed takeover of Wounded Knee, South Dakota in 1973.