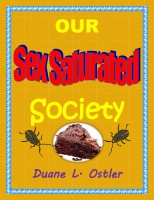 Our Sex Saturated Society
by

Duane L. Ostler
American society is obsessed with sex. This obsession has led to extreme results that would be considered appalling by prior generations, such as: rampant premarital sex which increases AIDS while decreasing trust and commitment between partners; gays/lesbians elevating sex to such an extreme it has become their god; and abortions in which innocent unborns are sometimes yanked out piece by piece.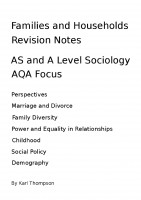 Families and Households Revision Notes for AS and A Level Sociology - AQA Focus
by

Karl Thompson
50 Pages of extensive AS Sociology revision notes covering all of the main topics in the AQA Families and Households Syllabus. Topics included are (1) perspectives, (2) marriage, divorce and cohabitation, (3) family diversity, (4) power and control in relationships, (5) childhood, (6) social policy, (7) demography. No nonsense, just well-structured comprehensive revision/ class notes.