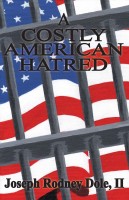 A Costly American Hatred
by

Joseph Rodney Dole II
A Costly American Hatred is an in-depth look at how America's hatred of "criminals" has led the nation down an expensive path that not only ostracizes and demonizes an ever growing segment of the population, but is also now so pervasive that it is counterproductive to the goals of reducing crime and keeping society safe, wastes enormous resources, and destroys human lives.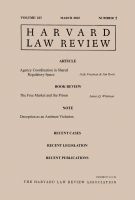 Harvard Law Review: Volume 125, Number 5 - March 2012
by

Harvard Law Review
Articles in Harvard Law Review's Mar. '12 issue are by Jody Freeman & Jim Rossi, on the coordination of administrative agencies when they share regulatory space; & James Whitman, reviewing Bernard Harcourt's book on the illusion of free market as to prisons. Student contributions explore antitrust law and business deception; the failed Google Books settlement; mergers; materiality; & other topics.