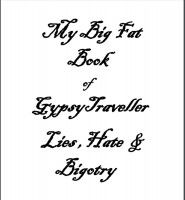 My Big Fat Book of Gypsy Traveller Lies, Hate & Bigotry
by

Ramona Mayon
This is a photograph of words (580,529 words to be precise - on 1918 pages) built from hate speech collected over a six-month period Nov 2011 - April 2012, from online news articles, essays, forums, threads, etc. for a purpose only sociology professors, policymakers and judges could truly fathom: an exhaustive Archive of Hate and Dis-information about a racial group.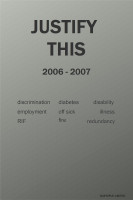 Justify This 2006 - 2007
by

Nostaple Limited
(4.00 from 1 review)
The Justify This series of books is a blow by blow account of one person's true story of alleged disability (diabetes) discrimination in the workplace, leading to legal cases against a multinational employer and international countries, through local courts, national courts, international courts, and the United Nations.