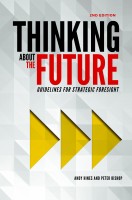 Thinking about the Future: Guidelines for Strategic Foresight (2nd edition)
by

Andy Hines
Thinking about the Future, by Andy Hines and Peter Bishop, distills the expertise of three dozen senior foresight professionals into a set of essential guidelines for carrying out successful strategic foresight. Presented in a highly scannable yet personable style, each guideline includes an explanation and rationale, key steps, a case example, and resources for further study.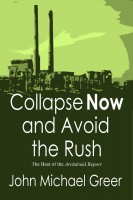 Collapse Now and Avoid the Rush: The Best of the Archdruid Report
by

John Michael Greer
Since 2006, author John Michael Greer has been sharing his perspectives on the fate of industrial civilization and more on his weekly blog, The Archdruid Report. His writing, both highly engaging and rooted in a depth of broad scholarship, has earned him thousands of readers who want to understand the trajectory our world has taken. Collapse Now and Avoid the Rush includes some of his best essays.