Youth Sports: Still Failing Our Kids - How to Really Fix It
by

Bob Bigelow
Bob Bigelow, former NBA player and 25-year youth sports reform advocate, demonstrates how improved play models increase children's skills. Bob has conducted unique quantitative studies that show how to truly solve the problems in today's youth sports environment. Bob offers a genuine blueprint for success and real-world examples. If you really want to change kids' sports, this book is a must-read!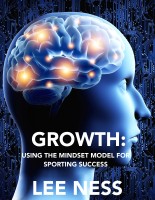 Growth: Using the Mindset Model for Sporting Success
by

Lee Ness
This mini-book will describe the mindset, how to use it as an athlete, as a coach and as a parent/guardian. The impact of mindset, and the simple language or semantics we use for praise, have an incredibly profound effect on sports development. As a general rule of thumb, kids who develop a growth mindset have more chance of being successful in the long term, both in sports and in life.
Related Categories