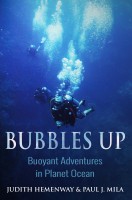 Bubbles Up
by

Paul Mila

&

Judith Hemenway
Plunge into the world's oceans with divers Judith Hemenway and Paul Mila. Meet 30-ton whales eye to eye, dive into the Caribbean surrounded by hungry sharks, and turn back time as you explore a World War II Pacific wreck. Feel the thrill of an eagle ray flyby in Cozumel, Mexico, and experience the rush of a barracuda feeding frenzy. Divers, snorkelers, and ocean lovers will enjoy these stories.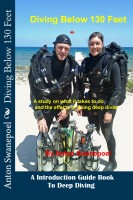 Diving Below 130 Feet
by

Anton Swanepoel
Thinking of diving below 130ft or just interested to know more about deep diving? Then you may find the information in this book interesting and of value.