Sub-categories:
Curiosities & wonders | Questions & answers | Trivia | Bibliographies & indices | Yearbooks & annuals | Catalogs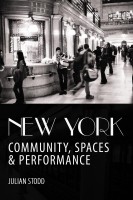 New York - Community, Spaces and Performance
(5.00 from 3 reviews)
In the Social Age, we exist in many communities, both online and real. The ways we come together, the importance of the spaces we create and inhabit, the ways we co-exist, all of this fascinates me. In this essay I'm reflecting on three aspects of the New York: 'Spaces', 'Community' and 'Performance'.