Special Deals
Sub-categories:
Curiosities & wonders |
Questions & answers |
Trivia |
Bibliographies & indices |
Catalogs |
Yearbooks & annuals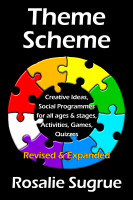 Theme Scheme: Creative Ideas, Activities, Games, Puzzles, Quizzes
by

Rosalie Sugrue
This revised and expanded edition of Theme Scheme offers you a wealth of creative ideas, activities, games, puzzles, plays and quizzes to help plan, organise and lead your group's programmes. All are fun and practical, requiring minimal equipment, resources and time to prepare. Great for convenors, leaders, teachers and diversional therapists.