Sub-categories:
Curiosities & wonders | Questions & answers | Trivia | Bibliographies & indices | Yearbooks & annuals | Catalogs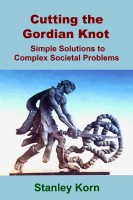 Cutting the Gordian Knot: Simple Solutions to Complex Societal Problems
by

Stanley Korn
(4.00 from 1 review)
In this book, you will find solutions to a wide variety of societal problems. Some problems, such as inflation, have a truly simple solution. Others, such as crime, require a multifaceted approach. In the chapter on space travel (actually, a technological problem), a mass transit system is detailed for launching vehicles into space using the energy of Earth's rotation to do the heavy lifting.