Sub-categories:
Curiosities & wonders | Questions & answers | Trivia | Bibliographies & indices | Catalogs | Yearbooks & annuals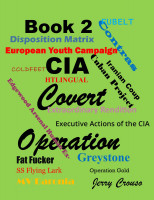 Book 2 CIA Covert Operations
by

Jerry Crouso
Covert operation is "an operation that is so planned and executed as to conceal the identity of or permit plausible denial. CIA is the US Government agency legally allowed to carry out covert action. These special activities include covert political influence and paramilitary operations. A black op is a covert operation by a government, a government agency, or a military organization.