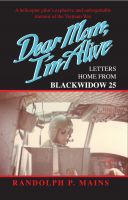 Dear Mom I'm Alive--Letters Home from Blackwidow 25
by

Randolph Mains
Price:
$3.99 USD.
Words: 89,880. Language: English. Published: September 6, 2012. Categories:
Nonfiction
»
History
»
War
Dear Mom I'm Alive is the unusually candid story detailing a young helicopter pilot's right of passage during the height of the Vietnam War. Randy Mains is a man who is fiercely a-political but stanchly patriotic who struggles daily to get through his one-year tour of duty as a combat helicopter pilot with his humor and humanity in tact.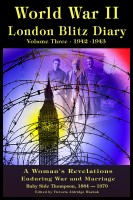 World War ll London Blitz Diary Volume 3 1942-1943
by

Victoria Washuk
This diary is the 3rd in a series of four volumes written by Ruby Side Thompson. They document her experience about World War Two in England and the London Blitz. The diaries are unique, written from a woman's experience during war time. They include Ruby's opinions written only for the privacy of her diary. Her views are often ahead of her time.