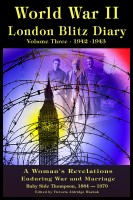 World War ll London Blitz Diary Volume 3 1942-1943
by

Victoria Washuk
This diary is the 3rd in a series of four volumes written by Ruby Side Thompson. They document her experience about World War Two in England and the London Blitz. The diaries are unique, written from a woman's experience during war time. They include Ruby's opinions written only for the privacy of her diary. Her views are often ahead of her time.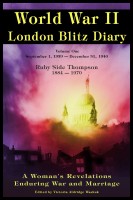 World War ll London Blitz Diary Volume 1
by

Victoria Washuk
(4.50 from 2 reviews)
Ruby Side Thompson, an ordinary woman living during the World War ll London Blitz bombing blasts history out of the realm of dry, dusty names and dates and places the reader in the midst of the terrifying events as they unfold. This is very important documentation and will have tremendous appeal to those who have an avid interest in the effect of the war on ordinary citizens.
Related Categories