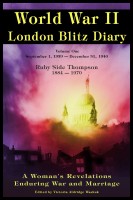 World War ll London Blitz Diary Volume 1
by

Victoria Washuk
(4.50 from 2 reviews)
Ruby Side Thompson, an ordinary woman living during the World War ll London Blitz bombing blasts history out of the realm of dry, dusty names and dates and places the reader in the midst of the terrifying events as they unfold. This is very important documentation and will have tremendous appeal to those who have an avid interest in the effect of the war on ordinary citizens.
Second Brigade - First Ličko Dinaric Četnik Division 1941 - 1945
by

John Lukich
Price:
$2.99 USD.
Words: 104,070. Language: English. Published: November 12, 2012. Categories:
Nonfiction
»
History
»
War
This book was originally written in Serbian by my late father, Dušan Lukich in 1991, and describes the events that occurred in the Tromedja area of the former Yugoslavia during World War 2. This book serves as an historical document of that time and sets the record straight regarding the role of the Četniks, Ustasha, and Communists in this region of the former Yugoslavia.
Related Categories