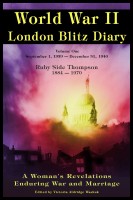 World War ll London Blitz Diary Volume 1
by

Victoria Washuk
(4.50 from 2 reviews)
Ruby Side Thompson, an ordinary woman living during the World War ll London Blitz bombing blasts history out of the realm of dry, dusty names and dates and places the reader in the midst of the terrifying events as they unfold. This is very important documentation and will have tremendous appeal to those who have an avid interest in the effect of the war on ordinary citizens.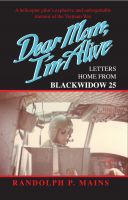 Dear Mom I'm Alive--Letters Home from Blackwidow 25
by

Randolph Mains
Price:
$3.99 USD.
Words: 89,880. Language: English. Published: September 6, 2012. Categories:
Nonfiction
»
History
»
War
Dear Mom I'm Alive is the unusually candid story detailing a young helicopter pilot's right of passage during the height of the Vietnam War. Randy Mains is a man who is fiercely a-political but stanchly patriotic who struggles daily to get through his one-year tour of duty as a combat helicopter pilot with his humor and humanity in tact.
Related Categories