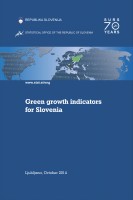 Green Growth Indicators for Slovenia
by

Statistical Office of the Republic of Slovenia
Green growth indicators bring together environment and economy; they show to what degree sustainability of natural resources on which our well-being relies is provided together with economic growth. The publication, which is the first attempt to present these indicators for Slovenia, brings 19 green growth indicators showing to what degree the green growth strategy is being enforced in Slovenia.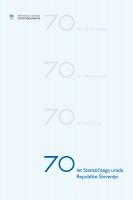 70 let Statističnega urada Republike Slovenije
by

Statistični urad Republike Slovenije
V letu 2014 mineva 70 let od ustanovitve Statističnega urada RS. Ta se je v tem času razvil v nepristransko in zaupanja vredno sodobno ustanovo z uveljavljenimi standardi kakovosti. Ob tem jubileju smo izdali publikacijo. Vabimo vas, da si jo ogledate in spoznate dosežke in mejnike v delovanju Statističnega urada v zadnjem desetletju.