El Veredicto de la Historia
by

Martín Hernández
Han transcurrido ya veinte años desde el fin de la Unión Soviética y algunos más desde que el capitalismo fue restaurado en el "bloque socialista". La burguesía anunció la "muerte del socialismo", la "superioridad del capitalismo", y declaró obsoletos el marxismo y las ideas revolucionarias. El autor intenta analizar la restauración en Rusia China y Cuba desde una perspectiva marxista.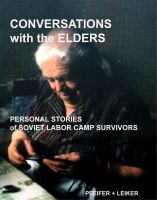 Conversations with the Elders
by

Alice Pfeifer
Price:
$2.99 USD.
Words: 46,130. Language: English. Published: November 25, 2012. Categories:
Nonfiction
»
History
»
Russian
(4.00 from 1 review)
What few people know about WWII concerns the fate of thousands of Russians of German descent who were exiled to Kazakhstan and Siberia after Hitler invaded the USSR. From 1995 to 1997, two US Catholic sisters interviewed 22 labor camp survivors whom they met while serving in a Catholic parish in Chelyabinsk. How these men and women managed to survive will both inspire and astound you.