Sub-categories:
General | Criminal procedure | Sentencing | Juvenile offenders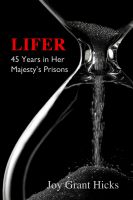 Lifer. 45 Years in Her Majesty's Prisons
The story of a man who was convicted of murder in England in 1968. He was the first person to be convicted on forensic evidence alone. However he always maintained his innocence. When, in 1991 the Parole Board recommended release, the Home Secretary overturned that decision, leading him to choose to fail to return from a Home leave. After 3 years at large he was rearrested and is still in prison.