Sub-categories:
Dogs | Cats | Horses & ponies | Pets (general) | Farm animals (general) | Hogs | Cattle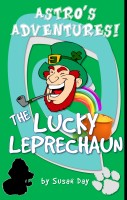 The Lucky Leprechaun
by

Susan Day
(4.50 from 4 reviews)
Astro the dog and his gang are dog-napped and forced to rescue a cat. They are taken to Ireland by a wicked leprechaun and that's just the start of their troubles! What an adventure they have meeting all manner of magical beings and exploring the ancient places of this beautiful country. This is an action packed, hilarious book written to delight readers from 8 to 80!