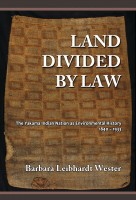 Land Divided by Law: The Yakama Indian Nation as Environmental History, 1840-1933
An environmental history of Yakama and Euro-American cultural interactions during the 19th and 20th century, exploring the role of law in both curtailing and promoting rights to subsistence resources within a market economy. Uses original source files, case histories, and contemporary writings and describes how the struggle to assert treaty rights both sprang from and impacted lives of the Yakama.
With the Dakota Sioux Indians: Writings From Charles Eastman (Ohiye Sa)
Charles Eastman was born on a Dakota Sioux Indian reservation in 1858. When the Indian Wars broke out, he was taken to Canada, where he lived with a band of Sioux and learned their ways. He later returned to the US, joined white society, and became a leading advocate for Indians in Washington. This anthology includes "Indian Boyhood", "Indian Heroes and Great Chiefs", and other essays.