The Hardest Goodbyes
by

D.L. Roan
(5.00 from 2 reviews)
Some goodbyes are cathartic—a good riddance to those things that hold us back. Some are bittersweet. It hurts to say the words, but we know the pain is only temporary, and we'll soon be reunited. Some goodbyes are forever. Daniel and Cade's ageless passion has forged a lifetime of love, but it was never easy. From their first goodbye to their last, this is their story.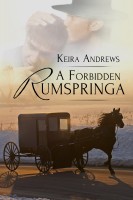 A Forbidden Rumspringa
by

Keira Andrews
(5.00 from 2 reviews)
When two young Amish men find love, will they risk losing everything? In a world where every detail of life is dictated by God and the all-powerful rules of the church, David takes on Isaac as a carpentry apprentice. Soon their attraction grows amid the sweat and sawdust, and they share sinful secrets. Can they reconcile their shocking desires with their commitment to faith, family and community?