Sub-categories:
Europe / Great Britain | Europe / Ireland | Europe / Western | Europe / Eastern | Europe / France | Europe / Germany | Europe / Italy | Europe / Former Soviet Republics | Europe / Spain & Portugal | Europe / Baltic States | Europe / Scandinavia | Europe / Greece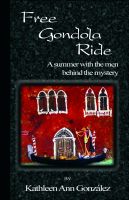 Free Gondola Ride
by

Kathleen Ann Gonzalez
Kathleen went to Venice with a goal and a plan. The goal was to write about a cliched group of men, the gondoliers. The plan included a notebook and the perseverance of a serious journalist. But sometimes plans change. From skinny dipping off a gondola under the full moon to sitting at the gondolier's feet, Free Gondola Ride takes the reader through a summer of beautiful episodes.