Sub-categories:
Europe / Great Britain | Europe / Ireland | Europe / Eastern | Europe / Western | Europe / Former Soviet Republics | Europe / Germany | Europe / France | Europe / Italy | Europe / Spain & Portugal | Europe / Baltic States | Europe / Scandinavia | Europe / Greece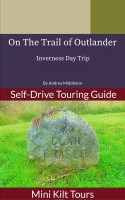 Mini Kilt Tours On The Trail of Outlander Inverness Day Trip
by

Andrea Middleton
Take yourself on around the Inverness area as if you have your own personal tour guide with you, explore some of the places mentioned in the Outlander series. As well as discovering Outlander connections to this area and Clan Fraser, also learn a bit the history of them. This eBook will get you to Culloden, Clava Cairns and Beauly area. Directions are also given to keep you on the right track.