Sub-categories:
Europe / Great Britain | Europe / Ireland | Europe / Western | Europe / Eastern | Europe / Former Soviet Republics | Europe / Germany | Europe / France | Europe / Spain & Portugal | Europe / Italy | Europe / Baltic States | Europe / Greece | Europe / Scandinavia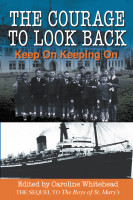 The Courage to Look Back: Keep On Keeping On
by

Caroline Whitehead
The Courage to Look Back is the sequel to The Boys of St. Mary's (published in 2015). Many stories in this book flow from decisions by the Catholic System and the British Government in 1952/53 to migrate young children from Orphanages and Homes to provide child labour and increase the population of Commonwealth countries. The KOKO old boys network was started in 1988 by Delvin John Flynn.
A Sacred Task: Qiriazi and the Albanian National Awakening
by

John Quanrud
At the heart of Albania's National Awakening comes the true story of Gjerasim Qiriazi. A poor carpenter's son, his unlikely rise as scholar and reformer led him to the forefront of Albania's rebirth, placing him at odds with potent enemies sworn to stop him by any means. Despite armed threats and a desperate kidnapping, Qiriazi's dream would prevail, altering the course of an entire nation.