Sub-categories:
China | Asia / Southeast Asia | India & southern Asia | Asia / Central Asia | Asia / Japan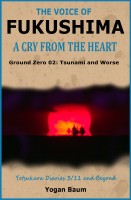 The Voice of Fukushima: A Cry from the Heart - Ground Zero 02: Tsunami and Worse
by

Yogan Baum
Unaware that the M 9.0 megaquake of March 11, 2011 was just the beginning of it all Yogan Baum narrowly escapes the ensuing tsunami. In search of his wife he slowly realizes the really bad news is still to come. Next morning the north-flying Chinooks overhead tell their own story. Reunited to his wife the flight from Fukushima is on. Japan is on the brink and the whole world is watching Dai-ichi.