Sub-categories:
China | Asia / Southeast Asia | India & southern Asia | Asia / Central Asia | Asia / Japan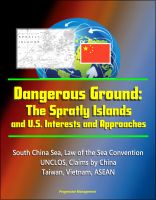 Dangerous Ground: The Spratly Islands and U.S. Interests and Approaches - South China Sea, Law of the Sea Convention, UNCLOS, Claims by China, Taiwan, Vietnam, ASEAN
by

Progressive Management
This timely analysis of the Spratly Islands dispute examines the economic and security importance of the region to the surrounding claiming states: the People's Republic of China, Taiwan, Vietnam, Malaysia, Brunei, and the Philippines, and the violent acts and potential for instability in the region that has resulted.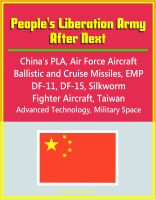 People's Liberation Army After Next - China's PLA, Air Force Aircraft, Ballistic and Cruise Missiles, EMP, DF-11, DF-15, Silkworm, Fighter Aircraft, Taiwan, Advanced Technology, Military Space
by

Progressive Management
Price:
$8.99 USD.
Words: 202,590. Language: English. Published: March 20, 2014. Categories:
Nonfiction
»
History
»
Asian
An analytical schism has developed over differing assessments of China's military modernization.