Sub-categories:
China | Asia / Southeast Asia | India & southern Asia | Asia / Central Asia | Asia / Japan
Same Road Different Tracks
by

Brian Burke-Gaffney
Into a colourful description of a modern-day trip by car from Vancouver to Toronto—exploring themes such as Canadian history and Aboriginal culture—the author inserts a series of flashbacks telling a parallel story about his journey from Canada to India and arrival in Japan in 1972 and his nine-year stint as an ordained Zen monk.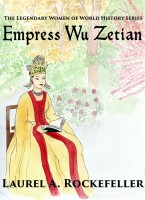 Empress Wu Zetian
by

Laurel A. Rockefeller
(5.00 from 1 review)
Travel back in time over one thousand years and meet the first and only female emperor of China. Born Wu Zhao and given the reign title "Zetian" just weeks before her death in 705 CE, she was the unwanted daughter of Chancellor Wu Shihuo -- too bright, too educated, and too politically focused to make a good wife according to contemporary interpretations of the Analects of Confucius.