Sub-categories:
China | Asia / Southeast Asia | India & southern Asia | Asia / Central Asia | Asia / Japan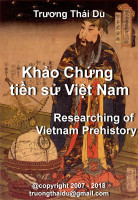 Researching of Vietnam Prehistory
by

Trương Thái Du
Price:
$3.99 USD.
Words: 111,890. Language: Vietnamese. Published: May 30, 2017. Categories:
Nonfiction
»
History
»
Asian
This book affirms that Nan Jiao 南交 , Jiao Zhi 交阯 , Xiang Jun 象郡 , Jiu Zhen 九真, and Ri Nan 日南 are united concepts related to Chinese Classical Astronomy. Việt 越 and Âu 歐 are homophones, mean water or water area, and their derivative sense is Country. Lạc 駱 is equivalent and has a birth process similar to that of Việt and Âu. Hung King 雄王 is a word created at a much later time than Lac King 駱王.