Sub-categories:
China | Asia / Southeast Asia | India & southern Asia | Asia / Japan | Asia / Central Asia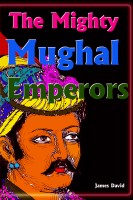 The Mighty Mughal Emperors
by

James David
Jahangir and lustre and fashion of Noorjahan which was immortalised by Shahjahan by constructing the Taj Mahal in Agra could not be retained by the unwisely and intolerant policy of Aurangzeb. All the successors of Aurangzeb were incompetent. Aurangzeb wanted to divide his kingdom amongst his three sons.