Sub-categories:
Africa / South / Republic of South Africa | Western region | Northern region | Central region | Eastern region | South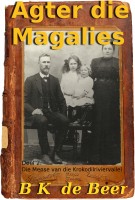 Agter die Magalies, Deel 2: Die Mense van die Krokodilriviervallei
by

B.K. de Beer
Die grootste deel van Hoofstuk 13, van die oorspronklike Agter die Magalies boek is vervat in hierdie afdeling. Ontmoet van die mense wat die vrugbare vallei langs die Krokodilrivier hulle tuiste gemaak het. Deel in die lief en leed van hulle alledaagse bestaan, maar met die insig van groter gebeure wat hulle lewens drasties beinvloed het.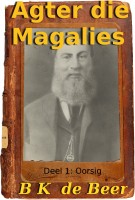 Agter die Magalies, Deel 1: Oorsig
by

B.K. de Beer
Die geskiedenis van Brits en omstreke word van die oerknal tot die mid-sewentiger jare, in hierdie boek opgeteken. Indien u noord van die Magaliesberg en naby Brits groot geword het, of 'n belangstelling het in die geskiedenis van die omgewing behoort die boek baie interessant te wees. Hierdie is die begin van 'n elektroniese uitgawe van die boek wat die eerste keer in 1975 gepubliseer is.