Sub-categories:
Africa / South / Republic of South Africa | Western region | Central region | Eastern region | Northern region | South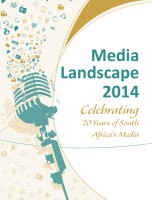 Media Landscape 2014: Celebrating 20 Years of South Africa's Media
by

GCIS
Media Landscape 2014 is a collection of chapters from media experts. Each of them was asked to consider the media landscape of 1994, to reflect on how far we have come, and to suggest a roadmap for the future. All were given the opportunity to present a range of views and opinions and to focus on the print, broadcast and digital media space where appropriate.