Sub-categories:
Africa / South / Republic of South Africa | Western region | Northern region | Eastern region | Central region | South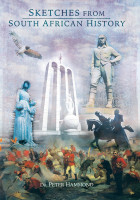 Sketches from South African History
by

Dr. Peter Hammond
We all know that education has become a battleground. Anyone who believes that education can be neutral is mistaken. All ideas have consequences. Actions flow from thought patterns. The chapters in the Sketches from South African History book have been developed over many years of travel, research, investigation, presentations and interactions with key-players in our country's history.