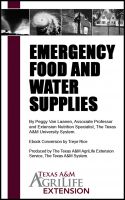 Emergency Food and Water Supplies
(5.00 from 1 review)
Safe food and water supplies are a major concern following a natural disaster such as a tornado, flood, hurricane or blizzard. Families who live in disaster-prone areas may benefit from being prepared in the event of disaster. Knowing how to safely handle food and water in the immediate few days after the disaster can reduce stress, worry and inconvenience.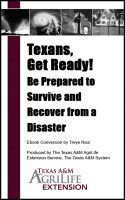 Texans, Get Ready! Be Prepared to Survive and Recover from a Disaster
(4.50 from 2 reviews)
Use this disaster preparedness guide to protect yourself and your household during and immediately after a catastrophe by making a disaster plan and a disaster kit. Plan to take care of yourself without outside help for at least 3 days. Special considerations include keeping food safe to eat, sheltering-in-place, and discussing a disaster with children.