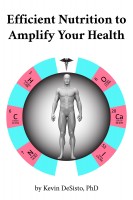 Efficient Nutrition to Amplify Your Health
by

Kevin DeSisto
(5.00 from 1 review)
This book will discuss the major opponents and proponents that affect our health and well-being. Learn what harms us most and helps us most to achieve a high quality of life. Becoming educated about the requirement our body needs to operate at an optimum level is critical. This book goes far beyond the four (4) food groups and will prioritize key attributes, which affect our health.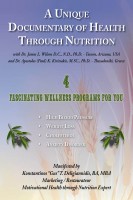 A Unique Documentary Of Health Through Nutrition
by

Konstantinos "Gus"T. Deligiannidis,BA,MBA
(4.80 from 5 reviews)
A Unique Documentary of Health through Nutrition is a documented story on four major health problems that were treated and healed alternatively. These were: 1. Blood Pressure 2. Weight Loss 3. High Cholesterol 4. Anxiety Disorder. Read it, enjoy it, practice it, and share it with a friend, I guarantee you it's going to change your life. Remember: Everything in moderation.