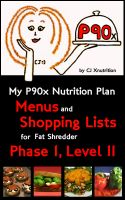 My P90x Nutrition Plan: Menus and Shopping Lists for Fat Shredder, Phase 1, Level II
by

CJ Xnutrition
(4.86 from 14 reviews)
P90x, Beachbody's extreme fitness program, is hard enough without worrying about planning your meals using the P90x nutrition guide! This handy meal plan with shopping lists for Phase 1, Level II removes the guesswork. Provides variety and comfort foods, uses common ingredients and leftovers, and is designed for lunches at work. Also includes cost saving tips for accomplishing P90x on a budget!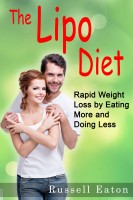 The Lipo Diet - Rapid Weight Loss by Eating More and Doing Less
by

Russell Eaton
(5.00 from 2 reviews)
Become slim and super-healthy more quickly than you ever thought possible. Do it without any kind of food deprivation and without exercise. Discover a simple weight-loss strategy that never fails, plus non-fattening mouth-watering recipes that never leave you hungry. This book is a completely new way of dealing with weight-loss and good health - this is the only diet book you will ever need.
Related Categories