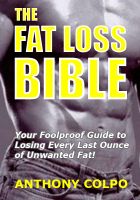 The Fat Loss Bible
(4.50 from 2 reviews)
The Fat Loss Bible is the ultimate fat loss guide! This groundbreaking tome destroys all those popular but misleading myths that are ruining your fat loss efforts. It explains in an 'idiot-proof' manner exactly how you can lose every last bit of unwanted fat! Find out why The Fat Loss Bible has been widely hailed as "the best fat loss book ever written", and how you can start losing fat today.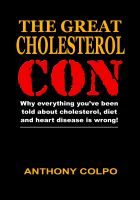 The Great Cholesterol Con
(4.83 from 6 reviews)
The notion that cholesterol and saturated fat cause heart disease is one of the most fundamental tenets of modern medicine. It is also completely false. In "The Great Cholesterol Con", Anthony Colpo presents the irrefutable evidence proving heart disease is not caused by saturated fat or elevated blood cholesterol. Discover what really causes heart disease and what you can do to prevent it!